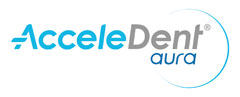 Smile Faster!
You want to improve the look of your smile, but does the thought of spending years in braces seem out of reach? With AcceleDent Aura, you can now speed up your tooth movement by as much as 50%! Using this fast, safe, and easy-to-use appliance, you'll be finished with your orthodontic treatment and achieve your desired smile faster!
It's Fast
AcceleDent Aura is a lightweight, comfortable, and hands-free appliance that's used 20 minutes a day as a complement to orthodontics. The exclusive SoftPulse Technology's® precisely calibrated micropulses gently accelerate the movement of your teeth as guided by your orthodontics.
It's Gentle
With patented SoftPulse Technology, AcceleDent Aura's vibration is a safe approach for accelerating tooth movement. In fact, the force applied to teeth during ordinary chewing is at least 200x greater than the force applied with AcceleDent Aura.
It's Safe and Reliable
AcceleDent Aura is safe as demonstrated in U.S. clinical trials. AcceleDent has been prescribed to thousands of patients worldwide since its introduction in 2009. Cleared by the United States Food and Drug Administration, AcceleDent is only available by prescription from an orthodontist.
AcceleDent Aura will make you smile!
Achieve your beautiful, desired smile faster!
Accelerate your orthodontic experience without sacrificing aesthetics
AcceleDent is lightweight and comfortable. You may even forget you're using it!
AcceleDent can be used for patients of all ages, including children, teens, and adults.
---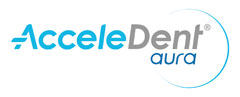 Acceledent Aura FAQs
The remarkable new AcceleDent Aura technology speeds orthodontic treatment up to 50%. If you have any questions about your orthodontic treatment, or you're curious how AcceleDent Aura can help speed up your orthodontic experience, contact our office!
How does AcceleDent Aura work?
By fitting the mouthpiece around your existing orthodontic appliance and using the device for 20 minutes every day, AcceleDent Aura can speed up tooth movement through the use of SoftPulse Technology®. Faster tooth movement may decrease the duration of your orthodontic treatment and can help make your orthodontic experience more comfortable.
Is AcceleDent Aura safe?
Yes! AcceleDent Aura with SoftPulse Technology has been proven safe through U.S. clinical trials and is cleared by the FDA as a Class II medical device.
What is SoftPulse Technology and why is it important?
Part of the way your orthodontic treatment works is by changing or remodeling the bones surrounding your teeth. As this remodeling process is accelerated, your teeth move more quickly. That's where AcceleDent Aura comes in! By using tiny vibrations, or micropulses, SoftPulse Technology speeds up bone remodeling and tooth movement.
How much time will AcceleDent Aura reduce my treatment?
Research has shown that tooth movement is accelerated by up to 50%, potentially shortening conventional orthodontic treatment.
How do I know if I am biting into the mouthpiece correctly and with the right amount of force?
Bite pressure on the mouthpiece should be just firm enough to hold your AcceleDent Aura in place without using your hands. Avoid biting forcibly into the mouthpiece, because that may cause excessive wear.
What is the best way to clean the AcceleDent Aura device?
The mouthpiece should be rinsed well with lukewarm water after each use. You may occasionally use a soft liquid dishwashing detergent, a mild soap, or toothpaste to brush the mouthpiece gently.
The activator can be wiped with a soft cloth as necessary. Do not place the mouthpiece or the activator in a dishwasher, because this will void the warranty and could cause damage to the product.
Can I use my AcceleDent Aura in the shower or when sleeping?
No. AcceleDent Aura is not water-resistant and should not be used in the shower. It is also not recommended to use while sleeping.
Can I sanitize my AcceleDent Aura and share it with a friend or family member who also has braces?
No. AcceleDent Aura is an FDA-cleared, single-use prescription device. Sharing AcceleDent Aura and/or the mouthpiece is prohibited. Based upon your unique orthodontic treatment plan, your orthodontist will prescribe AcceleDent Aura for your use only. Use of AcceleDent Aura without the supervision and direction of an orthodontist may result in adverse, unintended consequences.
If I use AcceleDent Aura for more than the recommended 20 minute treatment time, does it add incremental benefit?
No. Additional daily use greater than the prescribed 20 minutes' duration is not recommended.
Is there some way that AcceleDent Aura can "track" my usage?
Yes. AcceleDent Aura offers a FastTrac Usage Report that includes a usage summary, daily usage graph, and daily usage table. To view the FastTrac Usage Report, connect the AcceleDent Aura to a computer USB port. AcceleDent Aura will register as if it were a flash drive. You may navigate to that drive just as you would for any similar type of flash drive.
Can AcceleDent Aura remind me to use it on a daily basis?
No. AcceleDent Aura is not designed to provide reminders. It is recommended that you make AcceleDent Aura part of your daily routine in order to maximize its benefit to you.