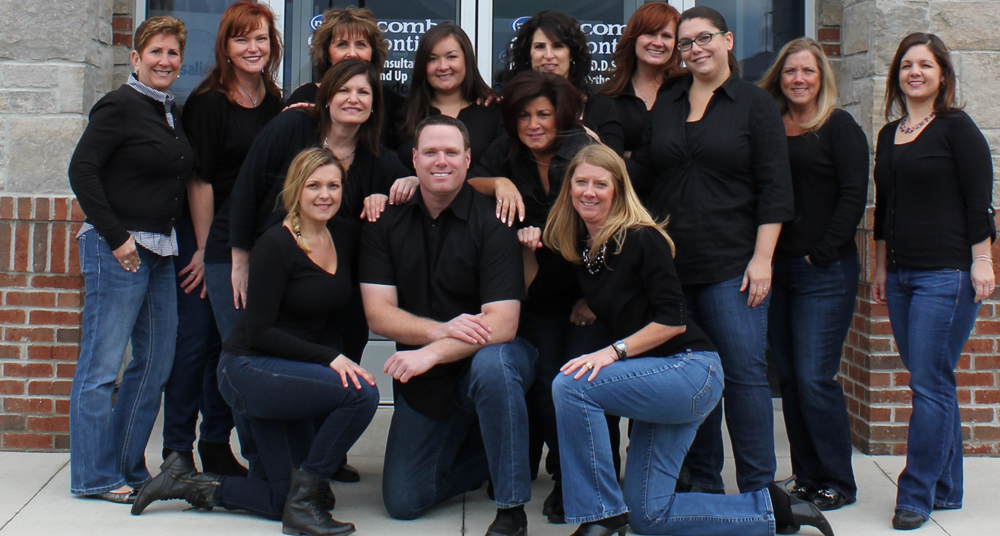 Shannon
Patient Relations Manager / Financial Coordinator
I have worked in patient care for more than 11 years and have had the privilege of working with Dr. Bieszki since 2007. The most satisfying part of my job is being able to sit in front of every mother and father who chooses us for their children's care and being able to say with confidence that they are in the best possible hands. My respect for Dr. Bieszki as an orthodontist and a person could not be higher. I am continually amazed by the results he is able to achieve and the vision he has for each and every patient that is trusted to his care. His attention to detail and artistic eye give him tools that training alone cannot provide. I am honored to be a part of this team and involved in something that has such long-term positive impact on our patients. I look forward to sending "MO" smiles out into the community for years to come.
---
Jean
Scheduling Coordinator
I have been with Macomb Orthodontics since 2010 and I have worked in the orthodontic field for 27 years. Every day at "MO" is different and it's exciting to be a part of it all. The best part about my job is watching the changes to our patients as they progress through treatment. Everyone at Macomb Orthodontics prides him- or herself on the care we take with each and every patient and the customer service we offer to make the orthodontic experience easy and enjoyable. But most of all, we are proud of all of the beautiful smiles we help to create.
---
Nicole
Treatment Coordinator / Professional Relations Coordinator
I have worked in the dental field for more than eight years and joined Macomb Orthodontics in 2013. What I love about my job is being a part of something that changes lives, transforms smiles, and instills confidence in children and adults alike. I have been given the opportunity to meet new families and guide them through this process, and watch that transformation from start to finish. What I really appreciate about Dr. Bieszki is his commitment to excellence and determination to get the best possible result for his patients. His enthusiasm for what he does shows in each and every case he completes.
---
Lisa
Financial Coordinator
I am reasonably new to the orthodontic field, being one of the newest members of team "MO," but I bring with me more than six years of customer service experience and I greatly enjoy meeting all the new faces that walk through our door. One of my favorite parts about being here is watching the faces of our patients after having their braces removed. I can say that they positively glow with self-assurance and pride. What makes Macomb Orthodontics special is the pride taken in ensuring a happy and comfortable orthodontic experience.
---
Jessica
Scheduling Coordinator
I am relatively new to the orthodontic field; however, I have eight years of experience in customer service and spent a number of those years working with children and adolescents. For the past three years I have been the head coach for the freshman volleyball team at Dakota High School and I love that I get to see so many familiar faces while I'm at work.
I am really enjoying working with Dr. Bieszki. I am impressed by how personable he is with his staff and patients and his honesty in making sure no detail is left unexplained. I am very excited for the opportunity to get to know our patients and watch the changes we are able to make in their lives.
---
Sharon
Treatment Coordinator
I have worked in orthodontics for 33 years and I love how rewarding it feels to know what I do every day makes a difference in someone's life. I have lived in the Macomb community my entire life and I came to work for Macomb Orthodontics in 2008. I love being out and being able to recognize the "MO" smiles when I see them. I cannot say enough about the results I see coming out of our office; the changes that Dr. Bieszki is able to achieve are simply outstanding. I have watched the field of orthodontics change so much over the years, and it continues to evolve and change as we speak. Dr. Bieszki is a leader in keeping up to date on all advances in technology and technique to assure his patients get the best possible result in the most efficient and comfortable way. His refusal to compromise is why I believe in him, and why every patient who comes to us should as well.
---
Joanne
Orthodontic Technician
I have worked in orthodontics for more than 30 years: 33 to be exact! I think the best part about my job is establishing a relationship with the patients and seeing them change over time. I also thoroughly enjoy and treasure the people I work alongside every day! If anyone asks me why they should choose Macomb Orthodontics for their care, I can say with confidence: Results! Results! Results! Only the best can turn out the quality that I see every day, and with such consistency. Our office is state of the art, comfortable, and fun. Dr. Bieszki wants only the best for his patients!
---
Sue
Orthodontic Technician
I have been in the orthodontic field since 1986 with a brief break to work as a government service employee in the dental clinic at an Air Force hospital in Germany. I've worked with Dr. Bieszki for two years now. He is such a great doctor, super smart and down to earth, and I really appreciate the effort and investment he has put into his practice. He has done an amazing job of creating a comfortable and happy environment for his patients, and given us everything we need to do our job with ease. It is fun to watch the orthodontic process played out and to be a part of such a great team and practice.
---
Lisa
Orthodontic Technician
I have been in the dental field for more than 21 years and I have always loved working in orthodontics where we get to help give our patients a beautiful, confident smile. Macomb Orthodontics is the best! We have a great staff and Dr. Bieszki always makes sure to provide us with the highest quality of materials and supplies, and stays up to date on the latest in technology. He always gives 110% to all of his patients. He is very talented and refuses to overlook even the smallest detail.
---
Jen B.
Orthodontic Technician
After graduating with my CDA license in 2012, I was fortunate to be brought on board by Macomb Orthodontics and given the opportunity to learn under the best orthodontist in town. I love getting to know all of the patients and experiencing their journey from braces to their new beautiful smile. It is very rewarding, and I consider myself lucky to be a part of it all. One thing I have learned and really appreciate about Macomb Orthodontics is that Dr. Bieszki wants nothing but the best for his patients. From ongoing and continued training to assure staff excellence to investment in technology and being open-minded to the needs of our patients, he is truly one of a kind!
---
Jen M.
Orthodontic Technician
I have worked in the orthodontic field since 1991 and have always loved how orthodontics facilitates the blooming of smiles and self-esteem. I love coming to work every day with the confidence that, without a doubt, Dr. Bieszki will give our patients the best care possible. His attention to detail and eye for precision goes above and beyond expectation.
---
Lena
Orthodontic Technician
I have 33 years of experience working as an orthodontic technician and I have always enjoyed being able to get to know the patients over the course of their treatment, especially the kids! They change so much while they are with us, and I love being a part of that. The best days are the ones when we take their braces off and they see their new smile for the first time. Dr. Bieszki is so talented; I will never stop being surprised by the level of quality he is able to offer his patients.
---
Laura
Orthodontic Technician
I have worked in orthodontics for more than 25 years and with Dr. Bieszki for four years. I will always love watching the change in our patients as they grow and work toward their new smile. The change in their personality and confidence is very rewarding. Macomb Orthodontics is a great place; we utilize all the best technology for our patients, and Dr. Bieszki is always in search of ways to make orthodontic care easy and attainable for the families of Macomb!
---