Even though a true orthodontic emergency is rare, we are here for you if you ever actually have to deal with one. If you feel like anything is amiss or uncomfortable, call your orthodontist's office during working hours. We will identify the issue and guide you through it.
For emergencies that can't wait until working hours, you can reach us via our after-hours emergency line. The line will guide you through with automated message prompts and one of our orthodontic technicians will also be notified about your emergency. They will call you back to guide you immediately.
However, most of the time you won't even need to do so. Because many issues which cause anxiety and panic in most people are actually very easily solvable at home for the time being. For example, if you a piece gets loose, you can either temporarily fit it back or remove it completely to bring along on your next visit to our office.
Loose or even broken brackets are no reason to rush to the ER. If a loose bracket is causing you discomfort just put some orthodontic wax on it. It's made of paraffin and is a convenient ointment to keep at home if you or a loved one wears braces.
If you face server injury to your teeth, or if you can see visible signs of gum infection, rush to the ER. Other than that, you can fix almost all issues at home yourself.
Here's a comprehensive list of what to do for common orthodontic discomforts:
---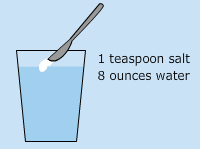 General soreness
This is a common issue when you start wearing braces. Your gums may get irritated due to constant contact with your braces and this irritation results in small ulcers or sores in your mouth. It may sound unpleasant but it is not a sign of concern or emergency. It is common because your mouth is still becoming accustomed to the new adjustments. These sores normally go away quickly if you keep up a proper diet and good oral hygiene. If the pain gets too much to bear, you can take over-the-counter pain relief medication or put some orthodontic wax on the brackets causing irritation. Please don't touch sores with your fingers.
You can also use this simple yet effective remedy. Put one teaspoonful of salt in eight ounces of lukewarm water and rinse your mouth vigorously. Or you can use a reliable mouthwash like the Healthy Gums by The Natural Dentist.
Loose appliance
If your appliance gets loose and is poking you, just put some wax on the poking end.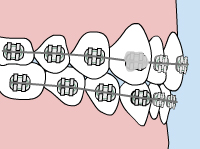 Loose bracket
Loose or even broken brackets are no reason for panic. If a loose bracket is causing you discomfort just put some orthodontic wax on it. However, if a bracket is entirely broken, just remove it completely and fix an appointment with your orthodontist.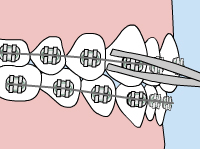 Loose wire
Loose wires are easy to fix, just take a sanitized pair of tweezers or needle-nosed pliers and fit the wire back in place. You can also use a little floss to tie the wire in place until your next orthodontist appointment. If you can't fit it back into its place, cut the loose end with a fingernail clipper and cover the end with some wax to prevent poking.
Poking Wires
If your wire is poking, just push it back into its place with a clean pencil eraser or cover the sharp end with wax.